Thrasher's Service Department
Nebraska, Iowa, and Missouri's superior waterproofing service and maintenance
When questions arise about products installed by Thrasher, many are uncertain who to contact. For example, what should you do if your sump pump's alarm is triggered? What kind of maintenance schedule does the sump pump need? How often should I change the filters in my SaniDry™ dehumidifier?
We understand the types of questions that customers will frequently ask, and that's why we maintain a fully staffed office that focuses on answering any questions you might have, with the highest level of customer service!
Some other frequently asked questions:
Why would I need servicing for my sump pump?
Does the warranty on my sump pump expire and when?
What should I do if my crawl space liner tears by accident?
Is it worth installing a battery backup?
What are the signs that my sump pump is being overworked?
What should I do if I never receive any warranty information?
If I decide to move, will my warranty still be good?
Is there an easy way to tell if my UltraSump® battery is charged?
Do I need to be part of the Annual Maintenance Program, and what is it?
How do I deal with basement humidity?
It's extremely important to have a regular service regimen to maintain your home's system. This includes confirming all components are functioning properly and also removing any debris from drainage systems. Other common problem points are also inspected, like piping, valves, batteries and switches. Keeping up with an annual maintenance schedule helps prevent any serious issues and ensures that your systems last for as long as possible.
Knowledgeable service technicians and customer service representatives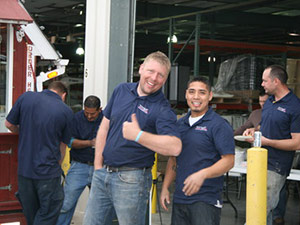 All of our service technicians have firsthand experience with all of the products we offer. They will work their hardest to answer any questions you have concerning your waterproofing system.
Don't hesitate to call and ask away- whomever responds to your call will exceed your expectations and come up with answers as swiftly as they can.
These service techs are the very same individuals who go out into the field to inspect basements and crawl spaces. They can identify any issues and offer suggestions to prevent any future problems.
After a phone call with our service department, you'll wish we could help with life's other problems!

Don't hesitate to call us with any queries. It is our pleasure to offer assistance!