What happens after the initial sales visit?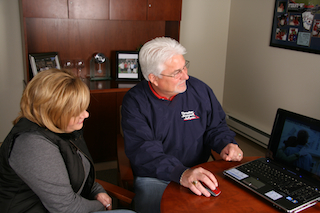 What happens after the initial sales visit? A good question and one that separates good contractors from bad contractors. Obviously, it is important for contractors to make sales in order to keep their business up and running, so each salesperson does their best to provide the best impression of their company, themselves, and their products. But, what happens after the sales visit? Do the Production Team and the company deliver on what the salesperson promised?
This is where many contractors or service companies get it wrong. They promise the moon, fall short of their promises, and follow it up with excuses as to why their promises couldn't be delivered. Many of us have encountered this and there is nothing more frustrating.
At Thrasher, we take excellent customer service and follow through very seriously. Our mission is "to be the best in our industry" and to "wow" our customers every step of the way." This means each and every employee has a stake in the process and takes ownership of our mission.
Good service doesn't stop after your first phone call or your appointment with a design specialist. If you choose Thrasher, we follow through with our courteous and knowledgeable production teams, service technicians and main office. This is what separates us from other contractors and why each and every employee feels it is important for the customer to choose Thrasher. Your home is more than likely the largest investment you will ever make and it is important to protect that investment!
How do you know if the contractor will follow through on what the salesperson promises? Ask them! Ask your salesperson specific questions like "How will my special wishes and instructions get communicated to the Production Team? If I have a question or a concern, who do I call? How long will it take for someone to get back to me if I do call? After the job is complete, will someone follow through with me?" These are all important questions. At Thrasher, we have the answers to these questions. Our System Design Specialists and our Crew Leaders meet to discuss every single job before the Production Team goes to an installation. They review the contract, special instructions, and pictures to make sure we deliver on our promises.
If you have a question or a concern during installation and/or after installation (whether it is a day or several years later) you can call your System Design Specialist or our office and we will answer your questions and address your concerns the same day, most of the time right when you call. After your project is completed, your Team Leader will review all the completed work with you, and our System Design Specialist will follow-up with you as well. You will also receive a Post-Installation survey that allows you to rate your entire experience with Thrasher.
We want to make sure we delivered on our promises. But we are not done yet; we call you every year to set up an annual maintenance of your system. That annual maintenance is then performed by our highly trained and experienced Service Technicians.
Our Service Technicians complete scheduled annual and urgent maintenance on your systems to ensure that everything functions properly when you need it most, and to inform you of any potential concerns. We're committed to making sure that your systems function properly for many, many years to come.
Regular maintenance is especially important for sump pumps. Sump pumps are no different than any other mechanical device. If properly maintained a sump pump can last a very long time. If uncared for, the lifespan of any sump pump is significantly shorter. Without regular maintenance, unfortunately, the only way to find out that a pump has failed is to relive the pain of a wet basement. We know that nobody wants to go through that more than once!
This is the reason why we offer a Service Program to our customers. After we install a system in your home we want you to have the peace of mind that comes with knowing your project is completed and maintained the right way! If you have a problem or concern our team of nearly 20 Service Technicians can be dispatched to your home at no charge. We have at least one Service Technician "on-call" every day to respond to emergencies and urgent repairs. And the best part? It's FREE!
When you choose a Contractor it should be a long-term relationship and not just a short-term sales call. All of the above considerations are important so that you can protect your largest investment and more importantly give you the peace of mind that you made the right decision.