Basement Flooding Issues In Nebraska, Iowa, and Missouri
What Causes Basement Flooding And How To Prevent It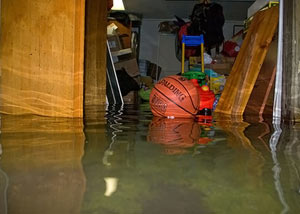 A basement flood can lead to extensive damage to your home and property.
Today's small leak can lead to serious flooding in the future -- don't wait to fix your wet basement!
When your home was built, it was never meant to stand up to a damp, musty, flooded basement. But as time and nature wear away at your foundation, an eventual leak is almost certain.
Basement flooding is a problem that can be solved quickly (and effectively), provided that you know what you're up against.
Basement Flooding Repair In Nebraska, Iowa, and Missouri
Because there are a variety of causes for basement flooding, there are also a variety of solutions on the market. The best solution for you is going to be the one that's reliable, durable and properly installed by trained professionals.
With 40 years of experience, Thrasher is the true industry expert when it comes to repairing flooded basements, and our installations come backed with a written and transferable warranty for complete peace of mind.
Get a FREE Inspection!
You don't have to solve your basement flooding problem on your own! Our team of professional waterproofers is standing by to provide you with a customized, warranted solution.
To schedule a free, no-obligation basement waterproofing inspection with one of our specialists, contact us by phone or e-mail today! Our Nebraska, Iowa, and Missouri service area includes Sioux City, Lincoln, Omaha, Papillion, Hastings, Columbus, South Sioux City, Maryville, Spencer, Beatrice, Bellevue, Carroll and many surrounding areas nearby.
Common Basement Flooding Problems
Basements can flood from almost any point -- including the walls, floor, pipes, windows, and hatchway entrances. The solution to your flooded basement depends entirely on what's causing the flood in the first place.
The features below cover some of the most common reasons for basement flooding, what you should do if flooding happens, and how you can stop flooding once and for all.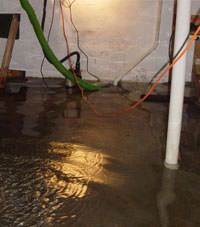 Help! My Basement Flooded!
What do you do when your basement is under not just inches, but several FEET of water? We'll guide you through the six key steps needed to tackle that water and solve your problem.
Highlights:
Who to call to pump out your basement
Tips for your insurance company
How to get the fastest professional service
---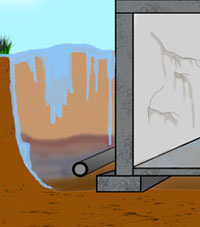 Why Is My Basement Flooding?
Why is your basement leaking? Why did it only start leaking NOW? In this article, we cover the building science behind groundwater intrusion and basement flooding.
Highlights:
The "Clay Bowl Effect"
How hydrostatic pressure affects your home
Why a perimeter drain system works
---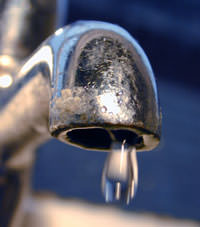 Basement Flooding From Plumbing
When the plumbing in your home fails, it won't take long for your basement to fill up like a swimming pool! In this article, we share some simple solutions to prevent a plumbing flood in your basement.
Highlights:
Preventing bursting washer hoses
Protecting from water heater failure
Flood alarms
---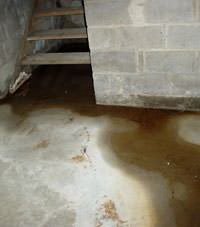 Basement Flooding From Stairways
Water can easily flow through improperly sealed hatches and doorways - even with a properly installed sump system. In this article, we explain why this kind of flooding occurs -- and how to prevent it.
Highlights:
How hatchway entrances are built
Where they leak
Effective waterproofing solutions
---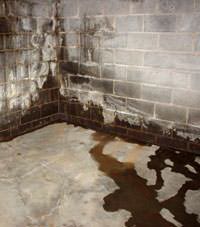 Flooding Through Wall Cracks
Not all cracks in foundation walls are signs of a structural issue, but even small cracks can cause big problems if water is seeping through. Learn the steps involved in permanently sealing leaky cracks in your foundation walls.
Highlights:
Which products seal cracks permanently
A step-by-step guide to crack sealing
Humidity from concrete foundation walls
---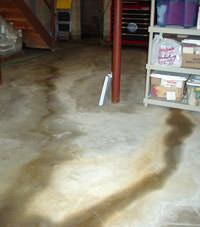 Flooding Through Floor Cracks
What do you do when water is leaking straight up through your foundation floor? Will a perimeter drain system solve this? This article outlines why floor leaks occur -- and how to deal with them.
Highlights:
Three steps to waterproofing a basement floor
When lateral lines are needed
Other sources of moisture through basement floors
---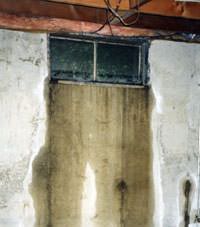 Leaky Basement Windows
When your basement floods through the basement window, it can stain concrete, damage drywall, and soak insulation. This article provides valuable information on solving this issue once and for all.
Highlights:
Why basement windows leak
Waterproofing basement windows
Easy maintenance to prevent future flooding