Stabilizing a Settling Foundation
Helical Pier Installation Contractors in Nebraska, Iowa, and Northwest Missouri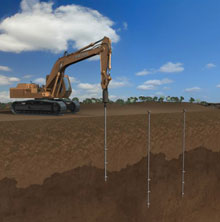 The most common cause of a settling foundation is a change in surrounding soils after construction is completed.
Soil can dry and shrink during drought conditions, causing settlement in structures. During periods of heavy rain, water saturation can cause soil to soften, resulting in sinkage. Lastly, structures built on poorly compacted fill soils can settle over time as the loose soil compacts.
Professional foundation solutions
Schedule A FREE Inspection
If you are having issues with a sinking or settling foundation, call us today for a free inspection on foundation repair!
Get a permanent solution
Thrasher's Helical Pier System permanently stabilizes any structure's foundation, and provides an opportunity to lift and level without the expense and disruption of a full foundation replacement. Our system includes the following steps:
Rugged steel piers are mechanically screwed into the soil - drilling down to bedrock or competent strata.
Heavy-duty steel foundation brackets are then connected to both the helical piers and the foundation footing.
The weight of the structure is then carefully transferred from the original, unstable soils through the piers and down to the competent soils or bedrock below. This ensures permanent stabilization, and an opportunity to lift the structure back to level.
As your local expert commercial foundation contractor, we have the products and experience to create a solution that will stand the test of time and provide a stable and waterproof foundation. Call us today for a free inspection!
Case Studies: Helical Piers / Piles