Cracked and Bowing Wall Solutions
Wall Anchor Installation in Nebraska, Iowa, and Missouri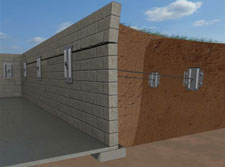 There are a number of potential causes of cracked and bowing foundation walls. The most common reason that foundation walls crack or bow is due to pressure from outside soils. When soil gets wet, it expands and exerts huge amounts of pressure on foundation walls. When that force exceeds the capacity of the wall repeatedly – as happens during an annual freeze and thaw cycle – permanent and significant damage can result.
The wall can crack or break when the force exceeds the strength of the wall. This reduces the structural integrity of the wall, and when the saturation cycle is repeated, this further causes weakening and inward movement.
Permanent foundation solutions from Thrasher
At Thrasher, we use a wall anchor system that permanently stabilizes foundation walls, and offers the best opportunity to straighten walls over time without the cost and disruption of foundation replacement. Strong, galvanized earth anchors are embedded securely in competent soil out away from the foundation wall.
Each anchor connects to a heavy-duty steel wall place with long, threaded, galvanized steel rods. The anchors hold the wall in its current position, and allow for tightening when the soils contract. This gives the opportunity for future straightening of any bowing wall sections.
As your local commercial foundation contractors, we provide complete foundation repair services in Omaha, Sioux City, Lincoln, Council Bluffs, Bellevue, Grand Island, Kearney, Norfolk, Fremont, North Platte, so call us today to get started with a free inspection.
Case Studies: Wall and Helical Anchors/Tiebacks