Egress Windows in Nebraska & Western Iowa
Basement Egress Window & Window Well Installation For A Safer, More Beautiful Basement
Thrasher offers ideal options for egress access. With their all-natural look and a durable, covered design, egress window systems maximize natural light in your basement while creating a beautiful addition to your space.
As the popularity of basement finishing has increased, building codes have grown and evolved to keep pace. Recent updates in building code require "egress windows" (windows large enough to climb out of in case of emergency) be installed in finished basements.
Along with the egress window, a large window well must be installed outside with a step to allow for easy evacuation in an emergency.
Egress Window Advantages:
Durable Construction
Attractive Design
Stair-Step Design Allows For Easy Exit
A Cover Keeps Out Water, Debris, & Cold Winter Winds
UV-Stable, Rustproof Design
Stands Up To Extreme Temperatures
Get a FREE Inspection!
Our egress window wells are just what you need for a safe basement! For a free egress window installation inspection, call or e-mail us today! We proudly serve Sioux City, Lincoln, Omaha, North Platte, Grand Island, Columbus, Spencer, Maryville and many nearby areas in Nebraska, Iowa, and Missouri.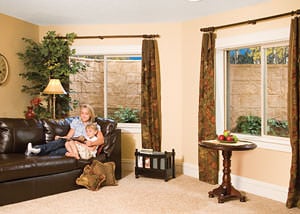 Egress window warranty and guarantee
Thrasher offers a 10-year product warranty for our basement egress window and window well products. We also provide a 5-year workmanship guarantee to ensure your peace of mind. In addition, we manage all permits and code regulations while working on your project and, as basement and foundation experts, we know how to cut into foundation walls and complete fast, accurate egress window installations to prevent water issues down the line.
Reliable Egress Window Wells
Our egress window wells are created with beauty and aesthetics in mind. We have options where the outer surface duplicates the look and feel of natural stone, with a muted texture that's UV-stable to resist fading.
These egress window wells are created with a one-piece rigid design that's designed to look great for many decades to come. Our window wells solve multiple window issues and are designed with a long-lasting construction that will never rust, rot, or need paint.
Add Beauty To Your Basement
Your basement doesn't need to be dark and unpleasant if you're using it for additional living space or even just for storage! Installing basement egress windows will let in natural light and make the space more beautiful and bright.
Certain window well systems maximize available sunlight and use the following properties to brighten your basement:
Spacious, open shape
Light color
Clear, domed plastic lid
In addition, the natural color of the well's exterior will fit in well with landscaping such as gardens and foliage, adding to the overall curb appeal of your home.
A polycarbonate cover adorns the top of certain window wells, keeping out rain and debris. While window wells are not intended for continual foot traffic, the cover has been created with durability in mind, and is rated to hold up to 500 lbs of weight to prevent accidental falls into the window well.
Quality Egress Window Well Installation In Nebraska, Iowa, and Missouri
At Thrasher, our team of basement contractors has the experience, training, and high-quality products you need to create a dry, beautiful, usable space in your basement. If you would like a free egress window well installation inspection, we're standing by to help you! To schedule an on-site installation and written cost quote, contact us by phone or e-mail today!
We serve the Omaha, Lincoln, Sioux City areas, as well as many other parts of Nebraska, Iowa, and Missouri.