Basement Floor & Wall Crack Repair Contractors in Nebraska, Western Iowa & Kansas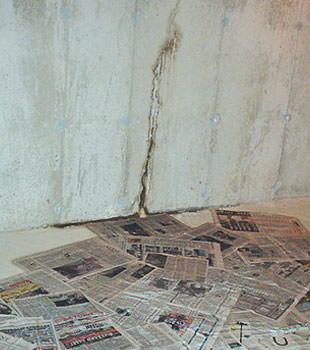 Wall or floor cracks can lead to basement flooding
Repair Flooding, Leaking Cracks in Your Basement or Crawl Space
Cracks in the basement walls and floors signal potentially serious damage to your foundation and can lead to additional issues like leaks, mold, and pests. When water leaks through your basement walls or floors, it can quickly lead to very serious flood risks.
Thrasher has several different techniques that are designed specifically to help homeowners stop leaks in their foundation walls and concrete floors, and provide complete and long lasting repairs that preserve the strength and safety of the foundation.
Our Wall Repair Services
Water can enter your home wherever there is an opening in the foundation. This includes cracks in the walls and floors, as well as openings around pipe conduits. Pipe penetrations, gaps around egress or traditional basement windows – all of these openings are susceptible to leaks.
We provide patented, warrantied methods for repairing cracks in foundation walls. Our repair systems provide strength, stability, and waterproofing for your foundation walls, giving you a basement and foundation that you are confident in.
Our solutions provide lasting results that are compatible with your foundation waterproofing system and will not crumble, flake, or fail due to the natural expansion and shrinking of the concrete.
Thrasher is your local expert with solutions for all your foundation problems. We service Nebraska, Kansas, Iowa, and Missouri, including Omaha, Lincoln, Sioux City, Grand Island, Bellevue, Council Bluffs, Wichita, Topeka, Maryville and nearby areas. Contact us today for a free wall crack repair quote!