Basement Waterproofing in Greater Omaha
Wet Basement Solutions in Nebraska, Western Iowa & Northwest Missouri
Basements, by nature, are imperfect concrete structures built in unstable soils of varying density and compaction.
Homeowners have always battled water in basements. Trapped in the soil surrounding your home, water will eventually invade your basement through leaks and cracks in walls, floors, and joints.
Thrasher can solve all of those problems and today, with access to more than 30 of Basement Systems Inc.'s patented products, provides a variety of solutions to ensure your basement stays clean, dry and odor free.
We offer Free Basement Waterproofing Inspections and Estimates – schedule yours today!
Dealing with standing water in your basement?
Insist upon the non-clogging WaterGuard® interior drainage system and a wet basement is a thing of the past. Don't rely on old, easily clogged french drains using turn of the century waterproofing knowledge - make sure you get the best patented technology on the market today.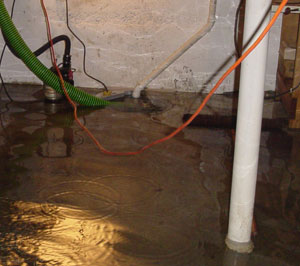 Want your basement dry all the time?
Check out our TripleSafe Sump Pump System – the best option available to keep your basement dry year round. Never worry again about water backing up from a frozen or clogged discharge line with our IceGuard®® System.
Damp and musty odor?
Eliminate the leading cause of odors – high humidity and other indoor air allergens – with the SaniDry™ Basement Dehumidifier and Air Filtration System.
Preparing your basement walls for finishing?
The right basement wall system makes a major difference in waterproofing. Restrict moisture and water vapors from entering your basement and insulate at the same time with our ThermalDry® Basement Wall System.
Leaking window wells?
Eliminate flooding from inefficient windows and window wells with the WellDuct® Window Well Drain from Thrasher.
Complete basement waterproofing
Our complete basement waterproofing system will give you and your family with a clean, dry, and healthy basement while providing peace of mind for years to come. Call us today to get started!
Thrasher fixes leaky basements in Nebraska (including the greater Omaha, Lincoln, Norfolk, Bellevue, Carroll, Columbus, Grand Island, Hastings, Kearney, North Platte, and Fremont), Western Iowa (including Fort Dodge, Council Bluffs, and Sioux City), Northwestern Missouri (including the greater Maryville area). Contact us today for a Free Wet Basement Inspection and Estimate.
Customer Review
"They did a great job on our old basement. They wasted little time getting..."

"We are very pleased with the water system, the radon system, and the..."

By Caroline A.
Auburn, NE

"Brandon Thompson was very professional. He had the respect of his crew. I..."

"it is hard to tell how it removed our issue. we wont' know until next..."

"I greatly appreciate how you all are willing to come back and refill/redo..."

"appreciated the sincerity of Mike on installation crew ~ seemed very..."

By Randall H.
Fairbury, NE

"I am on the church council at Zion Countryside Church at Gladstone and we..."

"Great job overall. One of the best customer service experiences I've ever..."