Sump Pump Systems in Omaha, Denver, Wichita,
Kansas City & Nearby
Sump Pump Installation & Backup Pumps in Nebraska, Iowa, Missouri, Colorado & Kansas
A sump pump can be an incredibly valuable resource in your home. When water gets into your basement, the sump pump is what protects you from a flood that could cause expensive property damage. If you've had issues with water in your basement — and even if you haven't — it's smart to protect your home with a quality sump pump from Thrasher Foundation Repair.
We install several cast-iron sump pumps that provide reliable water removal in the basement. These sump pumps have been tested in the harshest conditions and passed with flying colors, and you can count on them to protect your home.
If you're interested in adding a sump pump to your home, give us a call today at 1-844-948-3306 or click below to get started. We offer free estimates in Omaha, Lincoln, Sioux City, and throughout the surrounding areas.
Sump Pump Systems for Basement Waterproofing
The TripleSafe™ Sump Pump System provides three levels of protection for your basement and your peace of mind. For normal functioning, the TripleSafe™ has a powerful, cast-iron Zoeller® ⅓ horsepower sump pump set at the lowest level. For heavy volumes of water or in case of primary pump failure, a second, more powerful Zoeller® ½ hp pump set a bit higher in the liner will take over. In case of a power outage, our UltraSump® battery backup sump pump, set at the highest level, will pump 11,500 gallons or more on a fully charged battery!

The ⅓ hp primary pump can discharge 2,220 gallons of water per hour at an 8-foot head, while the ½ hp secondary pump can discharge as much as 3,900 additional gallons of water per hour at an 8-foot head. In the case of a tripped circuit, power outage, or sump failure, your TripleSafe™'s UltraSump® Battery Backup System will kick in. A second battery can be hooked up to a single system for an even longer running time. All told, this system provides the ultimate protection for homeowners who have had issues with water in their basement.

The same weather that can flood your basement can also knock out the power to your primary AC powered sump pump. That's why we created the UltraSump 4 powerpack system, which assures continuous protection. In the event your primary AC system loses power, your battery backup system will engage and begin removing water from your basement. The UltraSump 4 can pump out up to 12,000 gallons of water on a fully charged battery, which is enough to fill a swimming pool!

Our newest system features include illuminated plugs, battery-operated emergency LED lights, a resettable fuse, and is compatible with the TimeMachine data logger, which gives you instant access to real-time data about your system.

For an effective and more economical solution, consider our SuperSump® Premier Pump System. It is engineered to help keep the basement dry and healthy for extended periods of time, even in times of heavy water intrusion. The SuperSump® includes a powerful Zoeller® ⅓ horsepower cast-iron sump pump, capable of pumping 2,220 gallons of water per hour at an 8-foot head out of your basement. The SuperSump® can also be installed with an optional UltraSump® Battery Backup Sump Pump, which can pump out 11,500 gallons or more on a single charge!

If you have had occasional water issues but not a severe flood, the SuperSump® may be the ideal option for your home. This complete system provides total protection, and like all of our sump pump systems, works perfectly with our drainage systems.

If you're looking for a crawl space sump pump solution, the SmartSump™ Crawl Space Sump Pump System is the ideal option. The SmartSump™ is specifically designed for crawl spaces and can provide all the protection you need from leaks and floods. The SmartSump™ comes equipped with a cast-iron Zoeller® primary pump with the option of adding an UltraSump® Battery Backup Sump Pump. This sump pump is designed to fit with the CleanSpace® liner and has a sump alarm to ensure you are always aware of any water in your crawl space.

The SmartSump™ system comes with a reliable Zoeller® 1/3 horsepower sump pump capable of pumping 2,500 gallons per hour at a 5-foot head. This system is designed to fit with our crawl space encapsulation system, ensuring that you have a completely dry, clean crawl space.

Bring your basement or crawl space sump pump into the data age with the TimeMachine. Our sump pump tracking technology reports your system's battery status, pump cycles, the below-grade space's relative humidity and temperature, and more. With this data, Thrasher Foundation Repair can better track and diagnose the health of your below-grade space and sump pump system.

For seamless, uninterrupted tracking, The TimeMachine reports up to 10 years of data via Bluetooth - which is viewable on an easy-to-use app available on both Apple IOS and Android. The TimeMachine is easy to install and allows you to monitor the status of your system at any time!
Key Sump Pump Features Providing Total Peace of Mind
WaterWatch® Alarm: Sounds off to let you know if water has risen past the point where the pumps should have turned on.
SuperLiner Sump Liner: Large enough to keep your sump pump working properly without turning on and off repeatedly, but not so large that your liner goes too deep, making your sump pump wear out prematurely as it pumps out unnecessary water.
Airtight Sump Lid: An airtight lid keeps odors and humidity out while protecting your sump from debris from the basement floor. Rubber grommets around all pipes and wires help maintain the airtight lid and also help to keep all PVC pipes steady and quiet.
CleanPump Stands: These sump pump stands are installed to raise the pumps off of the bottom of the liner. Any silt or sediment that settles on the bottom of your sump pit will be kept away from your pump. These stands also allow for height adjustment of the pump if necessary.
Sump pumps should always be installed with a perimeter drain system to ensure that all water is drained to the sump pit and removed from the basement.
Expert Sump Pump Installation, Repairs, & Maintenance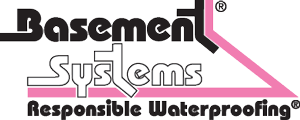 In the same way that you wouldn't hire a basement waterproofer to fix your bathtub, you wouldn't hire a plumber to jackhammer your basement and install a drainage system. When you choose us to install your sump pump, you can count on experienced and knowledgeable waterproofers who install sump pumps and basement waterproofing systems every day. As part of the international Basement Systems network, we have access to the best products and training available, giving you confidence that we can protect your home from water damage.
In addition to installation, you can always count on Thrasher Foundation Repair for repairs should you ever need them. If anything goes wrong, we will be there to help you quickly get your system working and back to protecting your home. To prevent these issues, we also offer annual maintenance to ensure your system is working properly. During this process, we will inspect and clean the entire system, including the discharge lines. No matter what, you can count on us to help with your waterproofing needs!
The Thrasher Difference.
No matter the job - we aren't going to feel good about the hard work we've done until you're happy. So we'll do it right or make it right. That's the Thrasher promise. For the last 45 years in the basement and foundation repair industry, we've focused on the value of doing whatever it takes to get the job done and "wow" our customers every step of the way. Explore the Thrasher difference!
If you're interested in a new sump pump or any of our other basement waterproofing products, contact us today to request your free estimate in Council Bluffs, Bellevue, Grand Island, Kearney, Norfolk, Fremont, North Platte or nearby.
Get a Free Estimate
Give us a call at

1-844-948-3306

or complete this form and we'll contact you shortly to schedule a Free Inspection, and you'll get a no-obligation written quote during our initial visit.
We serve the following areas
Missouri
Annapolis
Beulah
Birch Tree
Black
Briar
Bunker
Couch
Doniphan
Edgar Springs
Ellington
Ellsinore
Eminence
Eunice
Fairdealing
Gatewood
Grandin
Hartshorn
Jadwin
Jerome
Lake Spring
Middle Brook
Montier
Myrtle
Naylor
Newburg
Oxly
Raymondville
Redford
Reynolds
Rolla
Salem
Summersville
Van Buren
Winona
Kansas
Iowa
Alton
Batavia
Centerville
Fremont
Harper
Keota
Milton
Ollie
Richland
Selma
South English
Thayer
Our Locations: