Interior Basement Drainage in Omaha, Denver, Wichita, Kansas City & Nearby
Dry a Wet Basement by Placing a Perimeter Drainage System Inside Your Home
The best way to keep your basement dry all the time is to install a drainage system along the inside perimeter of your basement floor.
An interior system can bypass the expense and damage to your yard that is caused by an exterior drainage system. Interior systems cost half as much, install in 1-2 days, and are installed with no need to excavate the outside perimeter of your home.
Basement Waterproofing System With Interior Drainage
The FlowGuard® Thin Floor Basement Drain System
Although adding a drainage system is necessary for many basements, homeowners are understandably concerned about the appearance of the installed system. For basements where a standard drain system is too large, we have the FlowGuard Thin Floor Drain System.
The FlowGuard is a thin, modified form of our typical drain system that can be installed in front of the foundation footing. This drainage channel is designed to collect water from the basement walls via a wall flange. The flange directs collected water to a drain system that rests in a bed of clean drainage gravel.
This system fits smoothly underneath thin floors, providing a clean, finished appearance. The Thin Floor Drain System is equally as effective as any of our other drainage systems.
If you're interested in more information, Thrasher Foundation Repair is ready to help you. We offer free basement waterproofing quotes to homeowners throughout Nebraska, Iowa, Missouri, Kansas, and Colorado.
Our service area includes Omaha, Lincoln, Sioux City, as well as surrounding areas such as Council Bluffs, Bellevue, Grand Island, Kearney, Norfolk, Fremont, North Platte, and nearby.
How Interior Basement Drains Work
To install a basement drain inside your home, a waterproofer will typically run a drainage system along all leaking walls. Ideally, this system will be installed along the entire perimeter of the basement or crawl space.
Once the water is collected, it's directed to a sump pump which discharges the water out and away from the house.
Advantages of FlowGuard® Thin Floor Drain System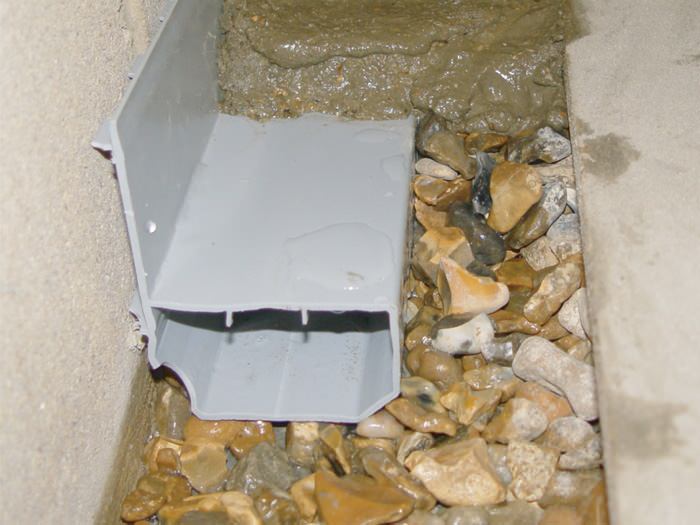 Drainage that will not clog
Some drainage systems are installed with a 1" gap at the edge of the floor. These gaps can collect dirt and debris from the floor, clogging your drainage system.
Other drains sit completely underneath the basement floor in front of the footing, laying in the mud underneath your home. These drains can easily clog with mud, causing the system to fail.
Features of our system:
Sits on top of the footing, out of the mud
A bed of stone keeps system clean
3/8" wall flange to accept wall seepage and keep out floor debris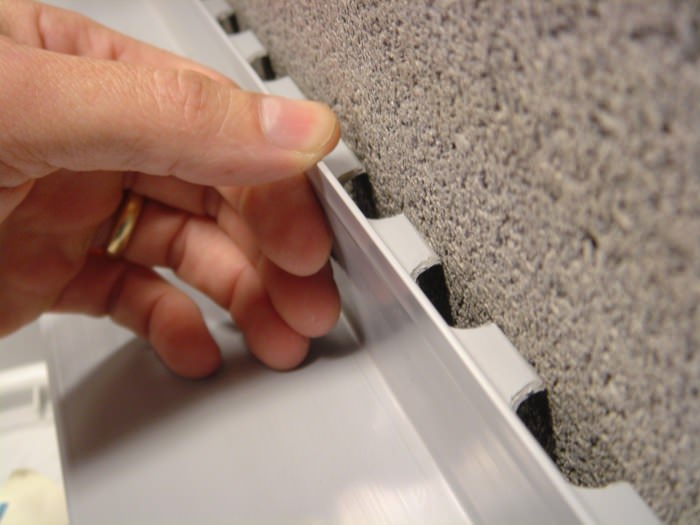 Built-in wall drainage - no open gaps on the floor
Basement walls can leak in many ways, including through cracks, pipe penetrations, through windows, or simply by having water seep through the concrete.
The hollow cavities in block walls can fill with water, creating a never-ending stream of water vapor and humidity in the home.
Our system can be integrated with these walls by drilling holes in each block that drain into your system.
Features of our system:
A 3/8" wall flange allows water to drain from the walls
Compatible with tucked-in wall vapor barriers
Neat and clean finished appearance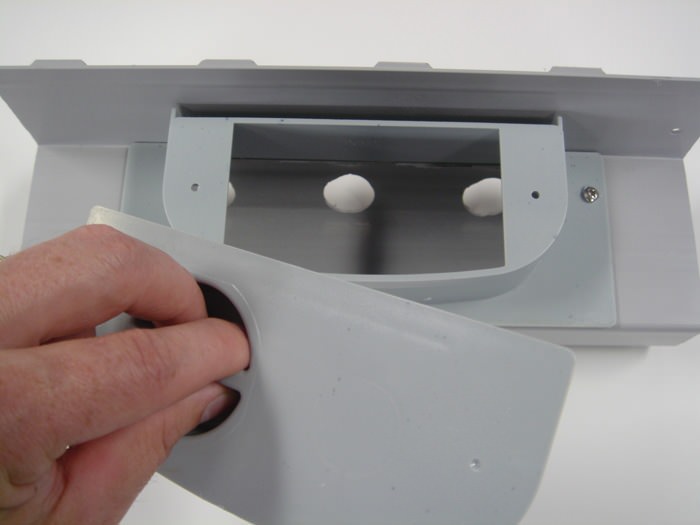 An easily accessible port
Thrasher Foundation Repair's WaterGuard® Ports are useful access ports to the system. These ports provide a channel that's usable for inspection, flood-testing, and for flushing out the system.
These ports are also useful when creating a drainage path for your dehumidifier system - and include convenient knockout holes to allow for the insertion of the drainage tube.
Features of our system:
Easy-access ports to the drainage system
Drains a dehumidifier that isn't located near the sump pump
Provides a convenient point for inspection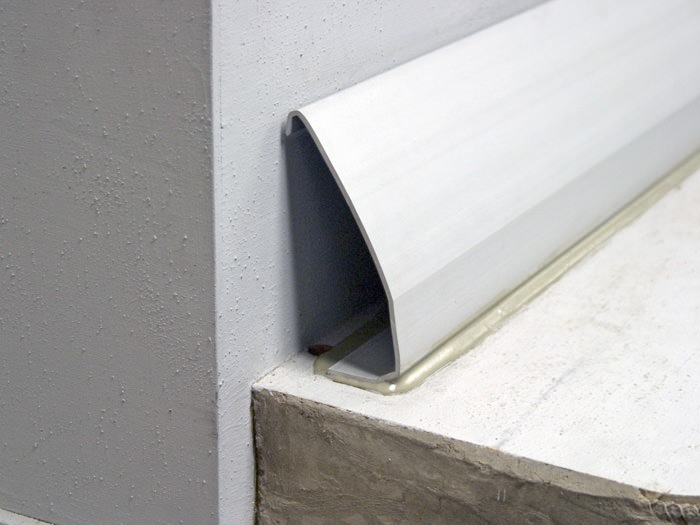 Baseboard waterproofing system
Some homes are built with a monolithic foundation as part of their design. With monolithic foundations, the floor and footing are poured together as one piece and the edges of the floor are extremely thick.
Jackhammering a trench at the edges of a monolithic foundation is work-intensive and creates a lot of dust! Therefore, a subfloor perimeter drainage system is not advisable. The recommended solution is to install a baseboard drainage system on top of the floor.
Features of our system:
Safe for monolithic foundations
Installs in only 1-2 days
Permanently bonded to the floor
Options available for monolithic foundations with leaking floor cracks
Get a Free Estimate
Give us a call at

1-844-948-3306

or complete this form and we'll contact you shortly to schedule a Free Inspection, and you'll get a no-obligation written quote during our initial visit.
We serve the following areas
Missouri
Annapolis
Beulah
Birch Tree
Black
Briar
Bunker
Couch
Doniphan
Duke
Edgar Springs
Ellington
Ellsinore
Eminence
Eunice
Fairdealing
Gatewood
Grandin
Hartshorn
Jadwin
Jerome
Lake Spring
Licking
Middle Brook
Montier
Mountain View
Myrtle
Naylor
Newburg
Oxly
Peace Valley
Raymondville
Redford
Reynolds
Rolla
Salem
Summersville
Van Buren
Winona
Yukon
Iowa
Batavia
Harper
Keota
Milton
Ollie
Pulaski
Richland
Selma
South English
Our Locations: